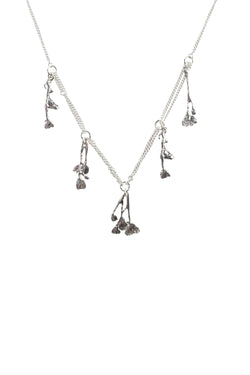 Phoebe Walsh Jewellery
Mriya
DREAMSCAPE
 A conversation of flowers in 100% recycled sterling silver with 5 delicate botanicals hanging from a fine silver chain. Complete with our signature Pin + Blade clasp.
 Strength in numbers, this design is inspired by the way in which we can draw lines and connect to one and another. This is a necklace of variation, woven together by fine chain in simple and delicate precision.
 Flowers foraged by Olga Morozova in Popudrenko Park, Kyiv, Ukraine. March 2022.
 *Limited Edition release.* There will be just 1/3 available in Batch 01, so get yours whilst you can. 
MUSES' TALE
Mriya is a necklace inspired by Missiga, a radiant being who isn't afraid of speaking out to help and connect those in her community for a greater good. This collection of springs' first flowers have been transformed into precious metals full of optimism and hope for what lies on the horizon. 
 METAL
925 recycled Sterling Silver 
COLOUR
Silver
 PRODUCTION TIME
Please allow 2 to 3 weeks to hand make yours!
Standard Delivery: 3-5 Days
£5 or Free For Orders Over £200
Next day delivery available on request. Email info@gatherandsee.com
Europe: 7-10 Days DHL £10 or Free Over £250
Rest of World: 7-12 Days £10 or Free Over £250
Customs and duties are the responsibility of the customer
Returns are free in the UK and we will send you a label.
We are unable to offer free returns for International Orders but you can send back to using your own means.
Click
here
to to make a return now.
Most items are shipped directly from the designer. If you have ordered from more than one designer your items are likely to arrive separately.
Please just get in touch if you have any query regarding a product, sizing information or if you would like more advice on building your sustainable wardrobe.
Email us at info@gatherandsee or through our Contact Us page here.
You can also DM us on Instagram @gatherandsee.
We are always happy to chat and aim to get back to you within 2 working hours.